Today, we're talking all things SUMMER! The 2023 summer wedding season is in full swing and we are soaking up all of the sun, fun and summer love!! Throughout the planning process, we always recommend ways of incorporating pieces of our couples' personalities and style into their wedding day to ensure their day is a true reflection of them as a couple! 
Planning a summer wedding? Not sure how to sprinkle in those perfect touches to make your wedding day the best it can be?! Your CT Wedding Group Planning Team is here to help! See below for some of our top rated summer wedding experiences recommended by our planners.
WELCOME TO YOUR BEST DAY EVER:
Greet your guests with our signature summer favorite, Prosecco and Pops! Our team will welcome your guests to your wedding with glasses of chilled prosecco paired with (you guessed it) POPSICLES! What says summer more than a popsicle in your wine glass?! This welcome experience is sure to wow your guests from the moment they arrive! After our friendly staff hands your guest their prosecco + pop, they'll lead them to your ceremony, as they prepare for the moment we've all been waiting for!!! 
Another favorite for summer is our Grab a Drink, Find a Spot welcome experience! Our team will welcome your guests with a glass of fresh squeezed lemonade and the option to enhance it with citrus vodka! This station is a true crowd pleaser!!  Picture this, It's a perfect summer day and all of your favorite people have arrived, everyone is all smiles as they wait for your ceremony to begin, fresh squeezed lemonade + citrus vodka in hand and they are already saying 'Cheers' to you two! We say YES PLEASE to this fabulous way to set the tone for your best day ever!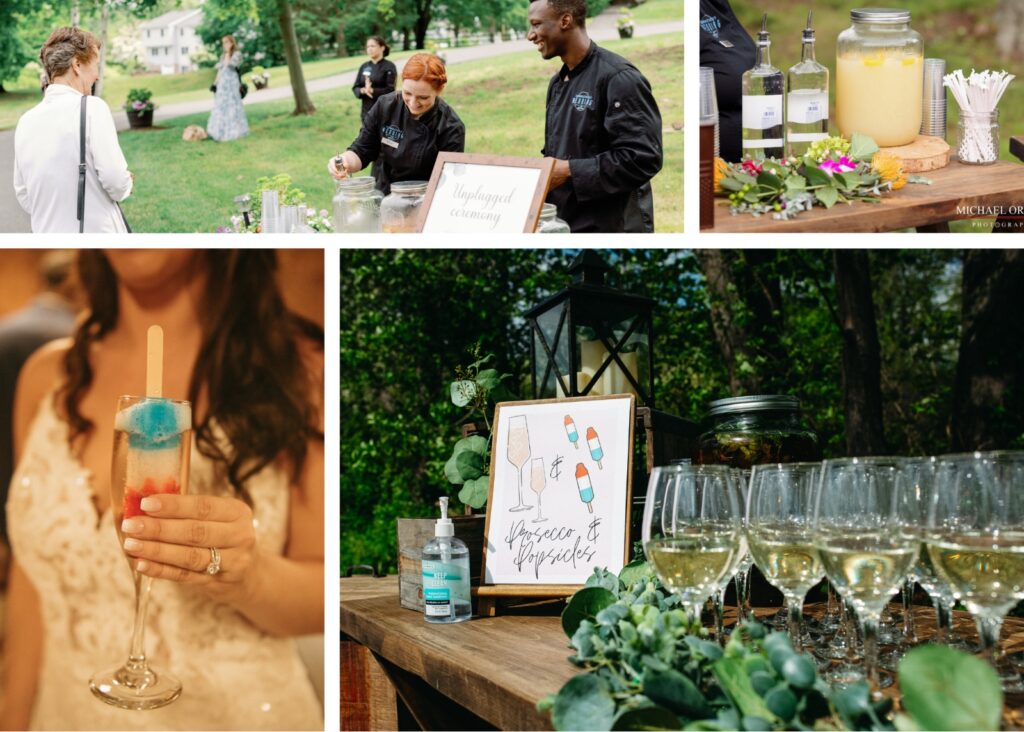 Do you two love visiting local breweries or how about sipping on a margarita in the summer sunshine?! WOW your guests at cocktail hour with our Craft Beer & Pretzel Bar and our Tacos & Tequila culinary experience! 
When it comes to our Craft Beer & Pretzel Bar our mixologists and waitstaff will get your guests so excited to try ice cold local craft beers and pair it with our giant, fresh out of the oven pretzels! Pair this with our epic beer cheese and it's game over!! You've won cocktail hour! 
Now let's talk about Tacos & Tequila! Not only will our award winning chefs be preparing incredible barbacoa beef and pulled chicken street tacos to order right in front of your guests, but there will also be shooters of fresh margaritas for your loved ones to enjoy right alongside the tacos!! Now we know you two are the perfect match and so are Tacos & Tequila – so it is only fitting to feature this epic experience on your big day! Talk about BEST DAY Ever! 
So..we do have another idea for your perfect Summer cocktail hour.. Can you tell we are huge foodies? 
Here at CT Wedding Group, we are all about local and seasonal cuisine. You will see this incorporated into every facet of your menu. Especially being located in New England, how can we not talk about the ultimate New England Summer wedding experience- OYSTER BAR!! Our talented chefs will be shucking local New England oysters to order in front of all of your guests. Paired with the most delectable mignonettes, fresh cocktail sauce and lemon – what could be better? Oh WAIT – we feature jumbo shrimp cocktail too! Seriously, your cocktail hour will be one for the ages!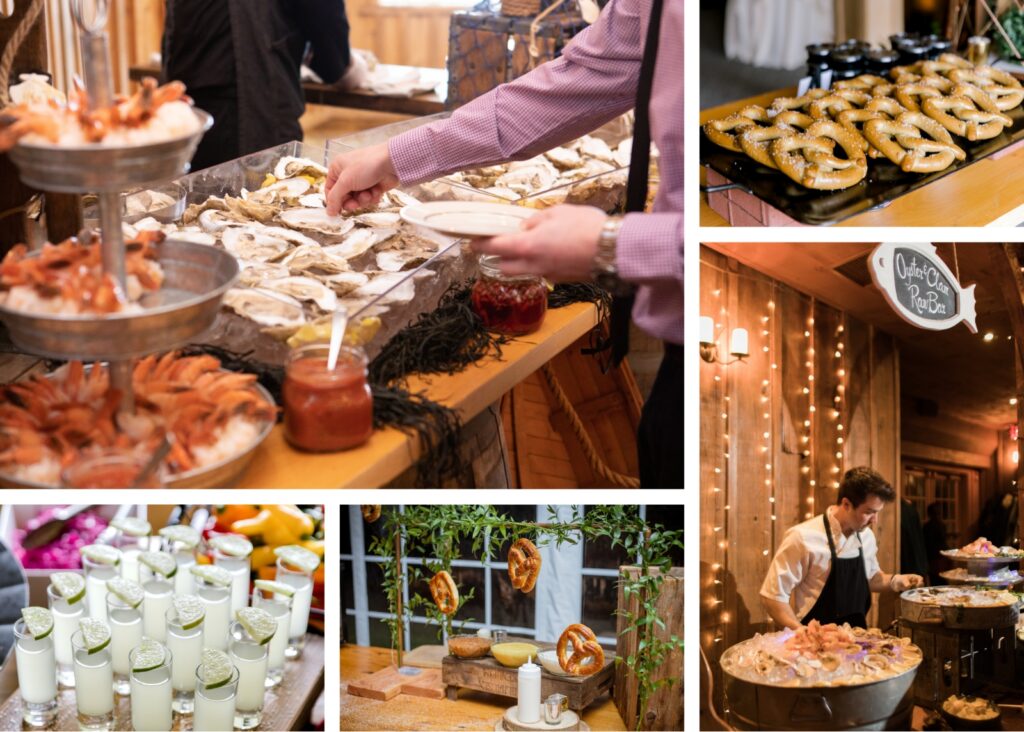 Our Outdoor Lounge Package Experience features our outdoor furniture, lawn games (think giant jenga, corn hole, and connect four) and an outdoor bar that serves your signature drink to your guests the second your ceremony ends! What says welcome to our party more than this!? Set the tone of your wedding right away with our Outdoor Lounge Package Experience!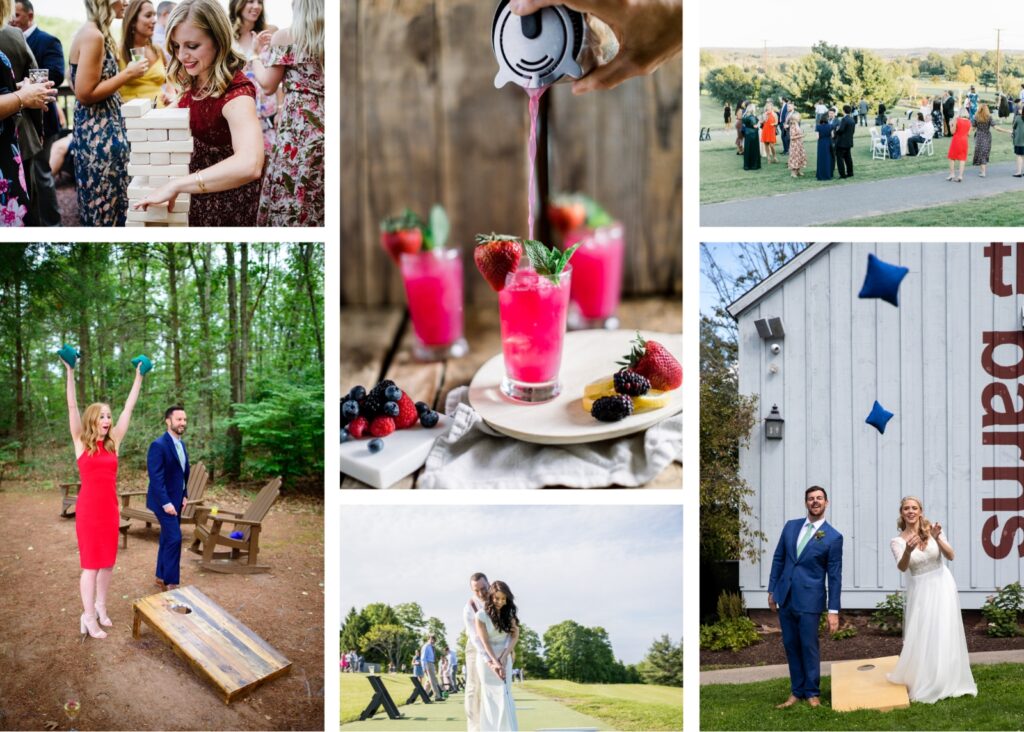 We can't talk about Summer without talking about ICE CREAM! Our "All You Need is Love & Ice Cream Sundae Bar" features homemade chocolate chip cookies and brownies, Neils Donuts and Locally made Ice Cream! Give your guests the ULTIMATE Ice Cream Sundae dessert experience! This station starts off with your guests choosing their Sundae Base (warm cookies, brownies or donuts) THEN we top it off with one of 4 locally made ice cream options, or maybe one scoop of each? We are NOT here to judge, live your best life! Next, your guests will add all of their favorite toppings, we have everything from crushed oreos to sprinkles, cherries, m&ms, fresh berries and more! Not into the traditional cake cutting? Try a first scoop instead!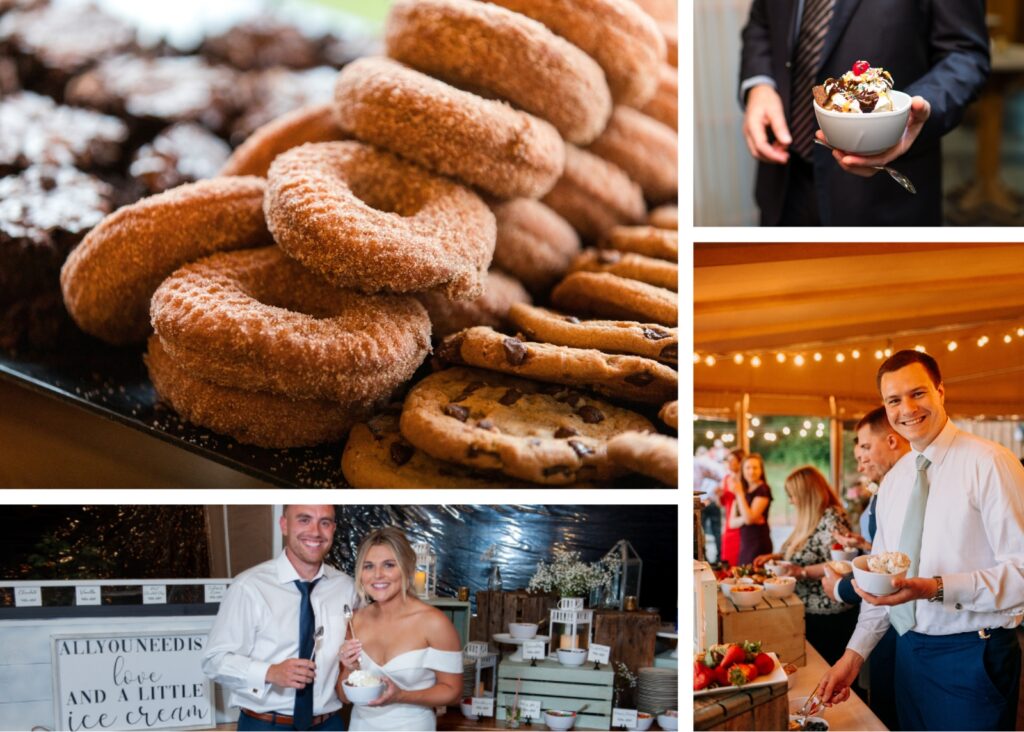 Talk about SUMMER WEDDING GOALS! Now that you've heard some of our favorite ways to embrace your season, we can't wait to hear yours. Let's start planning your best day ever today!! Call or text us today to get started 860-347-7171!